Latest Posts
Subscribe to this blog's feed

Liz asked for an update on Briar so this morning I took the camera with me as I did chores. Our days begin shortly after sunrise.
I'm sure Briar greets the rising sun like a whistle blowing to signal the end of night shift. The Inside Dogs emerge from the house, rested, relaxed, and ready to party,
but Briar is tired from spending all night barking back the forest and the things in it.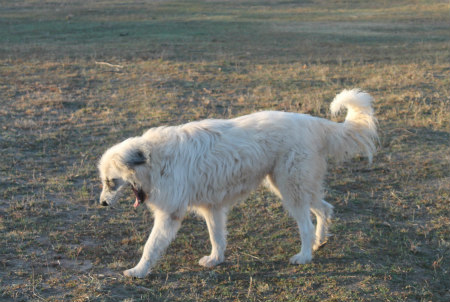 For anyone who worries that Briar has been retired and put on a shelf, fear not! Yes, she is slowing down, but she's still in the game. Now she works smarter, not harder, preferring to let the Anatolians waste the energy running to check out random scents. If she finds the threat noteworthy, she catapults herself in action with amazing speed for a dog who can be half-cripple for a few days at a time. When she catches scent of something, I've seen her climb straight up an almost vertical creek bank like a giant white gorilla. She may pay for it later, but Sector 12 is clear for today.
Because the Anatolians are not mature enough (i.e. The little bastards won't stay home if they're together!) they have to be paired with Briar. Judge works dayshift and Jury works nightshift. Briar works both shifts, therefore it's in her best interest to let the Anatolian do most of the legwork while she supervises and provides backup if he really finds something important.
Briar is the Queen Of All She Surveys, She Who Must Be Obeyed. All the dogs bow to her authority.
After the sheep are moved, the collies are free to bounce and play, Briar putts along, sniffing here and there, still doing random workplace inspections.
After the sheep are moved to pasture, then Darwin, The Chick Norris Chicken, is released from her dog kennel. Briar walks with Darwin back to the chicken coop.
The rest of the flock is released and Briar watches them waddle out,
and waddle back.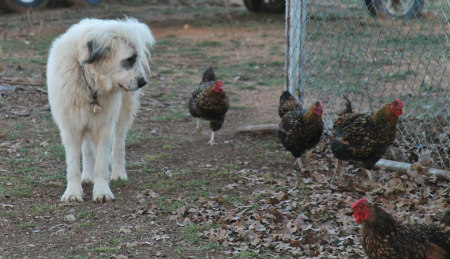 Then Briar settles down to sleep in the barnyard most of the day while Judge does most of the work. She snores from her cave under the horse trailer while he gives the impression that he's the dog in charge. But if something important happens, something worthy of her attention, she launches like the space shuttle (slightly slow to get started but building steam fast).
So I hope that answers your question, Liz. No, Briar hasn't been retired. The Anatolians are like teenage boys, they have the brawns, but someone still has to be in charge and make smart decisions. That someone is Briar.
Thankyou, beautifully told. However old she is, is the length of time I have roosted on the fence and really loving the "tails"
Posted by
Liz (Vic Aust)
on
11/24/2017 - 10:44 PM
So I haven't seen any Lily stories lately. How about and update?
Posted by
Jan Murphy
on
11/26/2017 - 01:55 PM