Latest Posts
Subscribe to this blog's feed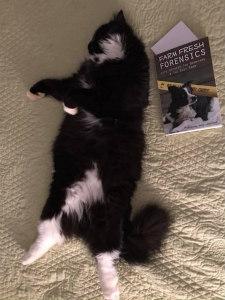 What is a shelfie?
In this age of social media, those of us who have only managed to master Facebook are dinosaurs. (If I'm a dinosaur, may I be a velociraptor, please?) I am now struggling to learn Twitter and Instagram, so bear with me. Help me, please! You can find me on Twitter at @rowe_langford and on Instagram at sheridanrowelangford. I'm still trying to figure out the whole hashtag thing ( #farmfreshforensics #sheridanrowelangford ) and need all the advice I can get. Some well-meaning friends are trying to explain the hashtag thing but I feel like a caveman banging rocks together to create fire. I'll get there, but it'll take me a while.
Now, moving forward toward shelfies. I'm not a big selfie person, mostly because if I hold a camera that close to my face I am appalled by the old woman looking back at me in the photograph. If you also add the fact that it's almost impossible to get a picture of me without an animal, and trying to juggle a dog and a camera at close range is difficult, getting a selfie of me is out of the question. I am intrigued by this new idea of a "shelfie" though. It's just a picture of books. Books on your bookshelf, books with nature, books with animals, all these can qualify as a shelfie.
Here are some wonderful examples of shelfies that readers have already sent me.
The cat was sent in by a reader who said that Maggie the Cat was auditioning for the role of a corpse in case Farm Fresh Forensics was ever made into a movie. I laughed so hard that I almost peed my pants. Maggie nailed it.
So why send out a shelfie on social media?
Aside from the fact that it's fun, it's also a way to garner attention for the book from people who have never heard of the Farm Fresh Forensics blog, much less the book. (I need the money. I have a mortgage and a staggering hay bill, People! LOL) And I'm getting all this cool book-related SWAG that I want to give away. The bookmark samples came in this week. I loved them. The front side has Briar's eyes. The back side has the book cover design and a blank spot for an autograph.
Anyone who puts a shelfie on social media can hashtag me at #farmfreshforensics or #sheridanrowelangford, or just put it on Facebook or email it to me, and I'll send you a bookmark. (Privately send me the address where you want the bookmark shipped. Don't put your address out there on social media!) Then I'll put your name in the hat for a drawing. For the next few months I'll be holding drawings for coffee mugs and a couple of canvas tote bags. The sample mugs haven't come in yet but when they do I'll post a picture to show you. I'm most excited about those mugs! One is Briar's eyes and the other design is the book cover with the slogan, "Try to see fewer flies!" (If you don't get it yet, read the book and it'll make sense.)